Buy property abroad
If you want to escape the West, I advocate an approach of spreading important parts of your life across the world.
This tactic is often called "Five Flags", although I personally see 6 distinct facets to this approach:
Residence: Where you can legally stay (so not just on a visa, actual Permanent Residence)
Citizenship: Where you are a citizen, where you have a passport
Business: Where your businesses are located
Source of income: Where your money comes from (ideally from several unrelated, non-Western countries)
Banking: Where you have bank accounts, in other words where you put your money
Assets: Where you keep your assets, the things you invest in
Making sure you have those flags in at least a few different countries is extremely important if you want to experience freedom, both physically and financially.
After all, if you keep all your flags in one country, that one country can make or break you.
That one government has complete control over your life, and that is a terrifying prospect in my eyes.
Today we'll take a look at investing in property abroad, more specifically real estate.
Why would you

buy property abroad?
Real estate, such as land, houses and apartments, is a prime example of an asset that you can have in another country.
Buying real estate abroad is a great way to put some of your capital in a nation where you do not live, because it is usually a pretty straightforward transaction.
In addition, you diversify your investment portfolio, ánd you could potentially turn it into an income-generating-asset.
If you rent it out, someone will pay you money every month.
The rental yield abroad is often much higher than it would be in the West.
Investing in property abroad or even buying land overseas can also vastly increase the size of your investment portfolio, because in many cases real estate abroad rises rapidly in value.
There's also the fact that if you buy a condo in, say, Thailand, you'll be able to do so at a much lower price than if you were to do this in Los Angeles.
And finally, there's the matter of personal security. It feels great to own real estate somewhere else, because it provides you with an escape plan.
In case things turn sideways wherever you are currently staying, it's a vast relief to know that you are just one flight away from your other home, someplace you can lay low or hang out whenever you want, because it is yours.
Where to buy

property abroad?
In theory, you could buy property abroad in nearly every country – barring shitholes like North Korea and Afghanistan (but why would you want to?).
You do have to keep in mind that this often comes with many restrictions, for example as a foreigner you cannot own land in many Southeast Asian countries, only the condominiums built on top of it.
Other potential types of restrictions are not being allowed to own anything close to 50 miles from the border (to avoid smuggling), and so on.
I've examined dozens of countries in Africa, Asia, South America, and elsewhere on their real estate prospects, and I've looked at:
Rental yield
Can you own property as a foreigner?
How's the visa situation?
Other factors such as the economy, crime rate, price of the real estate, …
Here's an overview of this information: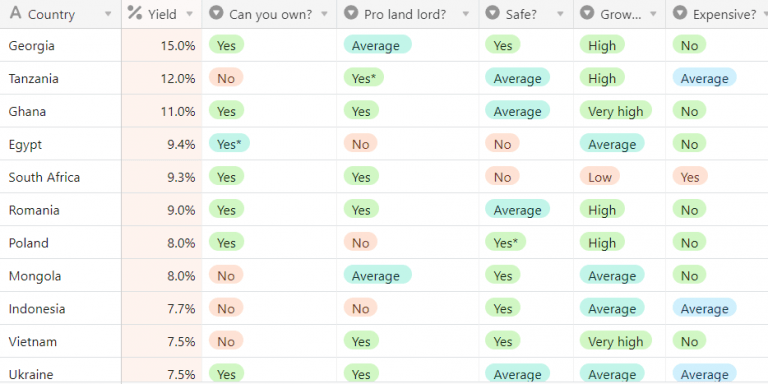 As you can tell, going by the numbers alone we come to the conclusion that these 7 countries are the best prospects to buy property abroad:
Kazakhstan
Croatia
Mongolia
All of them have great yields (6%+), are reasonably safe, a growing economy, and they aren't expensive to invest in.
That being that, you cannot own land in Mongolia, Vietnam and the Philippines.
To me, this isn't a big deal because only owning the condominium itself works fine for me, but you might beg to differ.
I would also advise you against investing in Georgia, Kazakhstan and Mongolia, because of the looming threat of Russia.
If it can happen to Ukraine, it can happen to them.
Croatia is part of Europe, so that's a no-go as well for me.
Uruguay comes out as the best option to buy property abroad, and I fully intended to do so, because this country is just great for other flags as well.
Other noteworthy options are:
How to buy

property abroad?
Buying real estate abroad isn't easy if you want to do it from a distance.
If you are inside the country, it usually won't be an issue at all, as long as you have the money and some valid IDs.
Simply find a place you'd like to buy, negotiate with the owner, and conclude the transaction.
I would advise against buying from private persons, because that could end in misery.
Some people could see your foreign-ness and take advantage of it, especially in countries where the legal system is pretty "fluid".
Buy from big real estate agencies, that will most likely be perfectly safe and reliable.
If you are trying to buy property in a foreign country while you are still in another, most likely Western, nation, you'll be faced with some difficulty.
In some cases, it might not even be possible at all, because a physical person will need to be present to sign and accept important documents such as the deed.
You'd have to find or have a contact person on the ground, and give that person Power of Attorney to sign on your behalf.
Don't do that if you don't know that person, or if you don't trust him or her.
In truth, there isn't much he or she can do wrong, it's not like a POA is a carte blanche, but still.
Investing in property abroad

- in summation
Buying a house, apartment, land or other piece of real estate in another country is a great way to diversify your portfolio and attain assets abroad – requisites for a financially safe life, in my opinion.
You've got plenty of choice between countries, but according to my research I'd stick to a few noteworthy options, such as Uruguay, Paraguay, Colombia, Panama, Tanzania, Vietnam, Thailand and the Philippines.
Doing this is pretty straightforward if you are actually present in the country you'd want to buy the property in, otherwise you'll most likely have to engage a third party to arrange this for you.
If you're interested in buying real estate in the Philippines, I happen to offer such a service, by the way!