Buying property in the Philippines from abroad
Buying property in the Philippines is an excellent way to set up an asset flag in this country.
Not only is it quite cheap to buy real estate here, you also get a decent rental yield (around 6-7%) and the value of your real estate increases year after year – often very rapidly.
I own a few pieces of real estate here, and today I'll talk about how I can help you with buying property in the Philippines, and how you can monetize this asset, even if you live in another country.
Buying real estate in the Philippines

from abroad
Before we get started, I need to make it clear that as a foreigner you cannot own land in the Philippines, only condominiums.
There are legal structures where you can buy the land in your wife's or children's name, and then they lease it to you or something, but honestly this isn't very appealing and I would not recommend it. It's an option if you actually live here and have a family, I guess, but even then I would steer clear of it.

In any case, I would say that buying condominiums is the best way forward, because they yield a healthy profit, and you usually have less trouble with them.
In addition, things like electricity, water, garbage collection etc are usually easily sorted, and most condominium complexes have security, a pool, and often other amenities like a playground and a gym.
Buying real estate in the Philippines from abroad can be done in 5 steps:
Step 1:

Find an intermediary
Unfortunately, as far as I know it's not possible for you to completely arrange everything online by yourself.
You'll need someone on the ground to take care of certain aspects.
If you have a family member or trusted friend, you can ask for their help.
If you don't, you can hire me.
I can act as an intermediary for other foreigners who are interested in buying real estate in the Philippines.
Because I can receive commissions from real estate companies, I can offer this service at a very low price.
Contact me to discuss this more in detail if you're interested.
Step 2:

Look for a property
Once you have an intermediary, or perhaps even before that, you can start browsing around to find a property you like.
If you hire me, I'd need some information from you first, like where you want to invest, your budget, which type of condominium, which size, pre-selling units or already built, and so forth.
With this data on hand, I'll go talk to real estate companies and do some research, hopefully coming up with suitable offers, which I'll then propose to you.
This step is one of the most important, because if you buy in a good location, you may have to pay a little more, but then you can also count on a higher occupancy rate and a higher rental price.
I personally have chosen to buy condominiums in the center of the city where I live (Davao), within walking distance of multiple supermarkets, hospitals, malls, and so on.
You can also be on the beach in less than half an hour, on the highway to another city, or at the airport.
And also important for foreigners: it's 5 minutes away from the Bureau of Immigration, where you can have your visa extended.
In addition, the compound I invested in also has 24/7 security, it is fully gated, with a swimming pool, gym, common area with free WIFI, efficient garbage collection, and so on.
In short, the location is really great.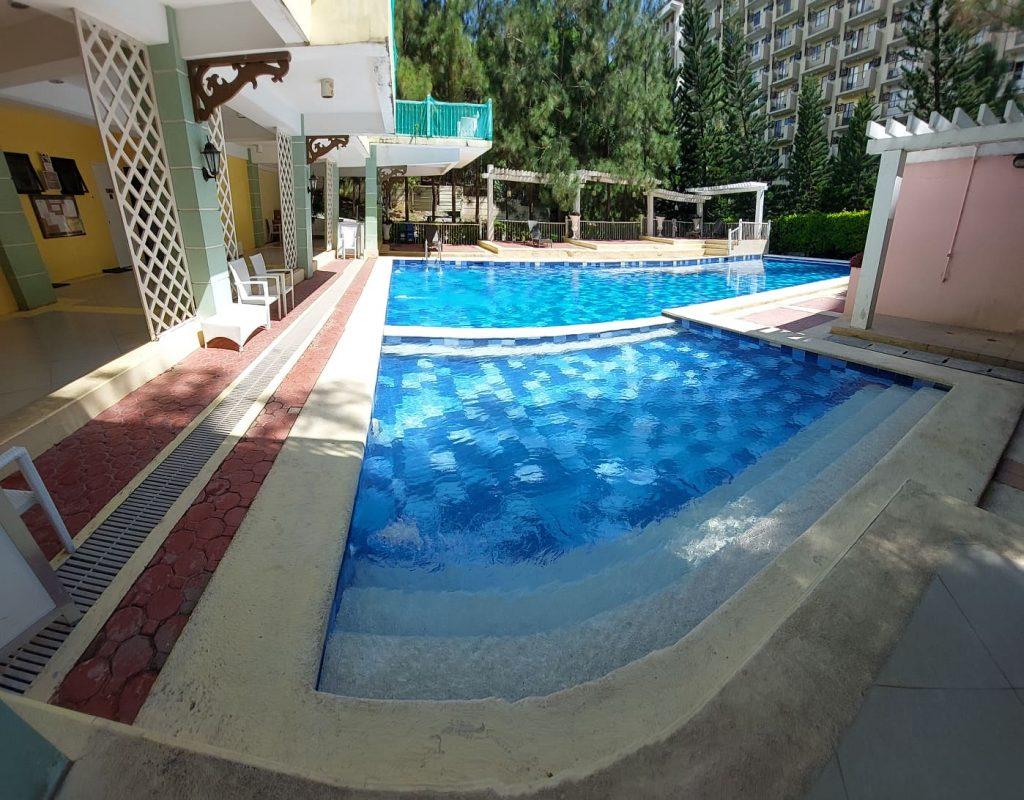 Pretty solid, and these are certainly important elements that will help you find good tenants.
The properties I bought aren't very big – they're just studios, but my budget was tight at that point, and I could have used it to buy one larger 2 or 3 bedroom condominium.
I preferred to buy 2 studios, for practical purposes because they are investments which in total can be rented out faster and for more total profit, not something I'm going to live in.
Step 3:

Arrange everything
When you've found a condo you like, I'll connect you to the real estate agent or company.
You can then arrange everything through them, such as payments.
You will not send me any money for your real estate, it will always go directly to the company itself.
It's likely you will have to give me (or whoever you want) Power of Attorney, so I can sign physical documents for you, and receive the title deed (which is in your name of course).
This is the most tedious part of the process, as far as I know, because to prepare an official POA you will have to go to an embassy to have the documents notarized / made official.
Step 4:

Complete the payment
Depending on what kind of property you buy and what kind of project it is, you will then have to send regular payments, or simply pay the full pot right away.
You can already buy some properties here for $50,000, so it is quite possible that you can just do that.
That has also been my approach, because if you pay everything upfront, you usually get a nice discount.
At the time of my purchases, the building did not exist yet, so I paid the "pre-selling price", which means you get a serious discount because the company uses your money to finance the construction.
In total I paid about $100,000 over a period of 2 years.
Paying this money was done in cash every month for the first 24 months, and at the end the remaining amount via a "manager's cheque".
Once the payment has been completed, the property will be in your name.
I receive the deeds, and then send them to you, or I just put them in your condo, depending on what you want.
At this point, we are basically done, and our collaboration is complete.
You have your property and the deed, and can now do whatever you want with it.
Just let it increase in value here and do nothing with it, visit once in a while or … rent it out.
Buying property in the Philippines

as an asset to rent out
Buying real estate abroad and then renting it out is something I can strongly recommend.
Personally I use one condo for my personal affairs, and I rent the other one out.
If you're interested in renting out your property in the Philippines, I can always help you.
Once you've found a suitable property which you own, you can rent it out in 3 steps:
Step 1:

Preparing the property
Depending on which kind of property you bought, you probably need to invest some additional funds to get your condo ready for occupation, for example in furniture and getting internet set up.
In my case, what I bought were two fairly empty studios, where only the following items were present:
Toilet
Shower faucet
Bathroom sink
Kitchen counter
Kitchen sink
Kitchen cabinets
Here are some pictures of what it looked like in the beginning:
Quite bare, so I had to invest some money in the following items:
Bed
Kitchen cupboard
Television (Smart TV)
Shower screen
Fridge and freezer
Wardrobe (with mirror)
Air conditioning
Fan
Nightstand
Kitchen table
All the little things you need to live somewhere, such as kitchen utensils, electronics, trash cans, towels, etc.
Water connection
Electricity connection
Internet connection
Netflix
On top of this, every month I have to pay approximately $30 in Home Owner Association Dues, expenses that pay for the waste collection and cleaning of the corridors and the building.
All in all I had to pay a little less than $2,000 per studio to get it sorted.
Since real estate incurs expenses every month anyway, it's critical to find a tenant as soon as possible and turn it into a passive stream of income.
Finding a tenant is mainly done via social media such as Facebook, specific real estate sites, and through word of mouth.
You can engage a real estate agent, but in my experience that is not necessary.
You can do this yourself, or outsource it to whomever.
Make sure you draw up a good contract, go for long-term rental, and ask for money up front, like 1 month's rent plus 2 months deposit.
Once your condominium is yours, and you've got a reliable long-term tenant, you will basically start earning money from your investment every month, and you've got an asset abroad.

Congratulations!
How much profit depends of course on how much you paid for the property, any expenses, and the current amount of rent you can charge.
For me personally, once I deduct all the expenses and taxes, I net around $300 per month for one small property, which is about 6% rental yield.
Not a bad source of income, especially since it's in a completely different market than my other investments like cryptocurrency and ETFs – and it covers a lot of my expenses here in this cheap country.

Hiring me to help you buy real estate in the Philippines is reliable as I have no interest whatsoever in trying to scam people.
I don't really see how I could, as I do not receive any payment for the real estate from any clients.
I'm just a middle man who facilitates the purchase at a distance, a kind of real estate agent on location.
I would also advise you to only buy properties from large real estate companies, and not to do business with private individuals.
With a large real estate company you are usually fine, and it is also only those companies that you will send money to.
The payments therefore go directly to an official bank account of international real estate companies, from which you always receive receipts.
The communication about important details also goes through those companies.
I can understand that people are dubious about such an approach, but as far as I can see there is little risk involved.
My experience buying real estate with such companies is good, and I know several other foreigners who have done this as well.
Why should I

buy real estate in the Philippines?
There are multiple reasons why you should buy real estate in the Philippines, and here are the biggest in my opinion:
It is a lot cheaper than real estate in the West. My two little small condos have cost me about $50,000 each, and this is in one of the best locations in an up and coming city
Decent yield: if you rent out the property, you can expect a 6 to 7% yearly return
A place of your own under the sun: the Philippines is a popular tourist destination, and there are good reasons for this. Beautiful beaches, sunny weather, English is spoken everywhere and so on. Owning a condo 200 meters from the beach is a great way to enjoy your retirement (or to just go on holiday every year)
Warm weather: every day of the year, in pretty much every part of the country, it's warm. In addition, most properties you can buy come with a swimming pool. A sunny and relaxing life is within reach for everyone
The girls are into foreigners, and even more so if they learn you own property here
Life in the West is becoming more and more expensive, and I make no secret of the fact that I believe that the West is slowly but surely collapsing. In a few decades those countries will be a lot less pleasant to live in, and moving to an emerging nation is a great idea. If you start investing in an emerging economy now, you can enjoy their upward march
Plus, it's just a nice country to live in and I personally really enjoy knowing that I will always have a home here, no matter what happens elsewhere in the world.
If you want more information about moving to the Philippines, you can read my article about it.
Buying property in the Philippines

in summation
Buying property in the Philippines is a smart investment.
Not only does it diversify your portfolio, you also attain an asset in an emerging market, which appreciates at a really decent pace.
You gain some residual income, and you always have a place to live when you visit the Philippines.