Assets Abroad: Real Estate in Central Asia
Today we look at investing in real estate in Central Asia, a region that stretches from the Caspian Sea in the west to China in the east, Russia in the north and Pakistan in the south.
This region largely corresponds to Turkestan, and the following countries are generally included:
Kazakhstan
Kyrgyzstan
Uzbekistan
Tajikistan
Turkmenistan
Mongolia
Afghanistan
Georgia
Many of these countries are just garbage.
Who'd want to invest in Afghanistan or Turkmenistan? Corrupt, failed, Islamic states, where you are as likely to be killed by the "police" as by bandits.
As a result, I was only able to find 3 from this list that are an attractive option for investing in real estate.
As in the previous installments of this series, I look at the yield (average profit per year, before costs), what you can own as a foreigner, what the visa situation is, and other pertinent factors such as natural disasters, crime, economy, and so forth.
Average yield per year:
5% in most cities, in the capital Nur-Sultan (Astana) even up to 7.48%
What you can own:
As an individual, you can own land if you have permanent residency there, but that's hard to get
Foreign companies, on the other hand, can own real estate without any problems. It is also quite easy to set up a company in Kazakhstan (tax advantageous!) and simply purchase your real estate with it
Visa:
If you stay less than thirty days, you do not need a visa. In other cases, you must apply for a visa through the embassy
Permanent residence permit is possible, subject to a lot of conditions and bureaucracy
Other Factors:
Taxes are high, foreigners who earn money from rent pay 20%
The president has been in power for thirty years and his government is rather undemocratic
GDP is comparable to that of Russia
Geographically very advantageous location, right in the middle of China's new Silk Road, so they invest a lot of capital in Kazakhstan
Real estate in the largest city of Almaty is cheap, about €1300 per square meter. That is very cheap for an economy of this size
In the capital Astana you can even invest from € 380 per square meter. That means you can buy an apartment of 100 square meters for €38,000! Of course you are far outside the center, close to the steppe. Closer to the center it is €1000 per square meter, still a good price
Very many natural raw materials
Very diverse country with many different types of landscapes: lakes, mountains, vast steppes, …
Emerging enormously: the population, economy and GNP are all growing at a good rate
The currency, Tenge, is quite weak and unstable, so this is definitely a risk to be reckoned with
The most peaceful country in the region, but scams, theft and corruption are definitely present
Conclusion:
Kazakhstan undoubtedly has a very funny image to anyone who has seen Borat.
Backward peasants, medieval and barbaric practices, stereotypes about Jews and assholes Uzbekistan, and so on.
But in reality, this Central Asian country is a reasonable and relative success story.
Since liberating itself from the Soviet Union and communism in 1991, Kazakhstan has grown at a very fast pace in all areas.
It is without a doubt one of the most prosperous countries in the region and is a good source of income from investing in real estate due to its low entry costs and decent returns.
The biggest drawback is the fact that you have to own or set up a small business if you want to own real estate.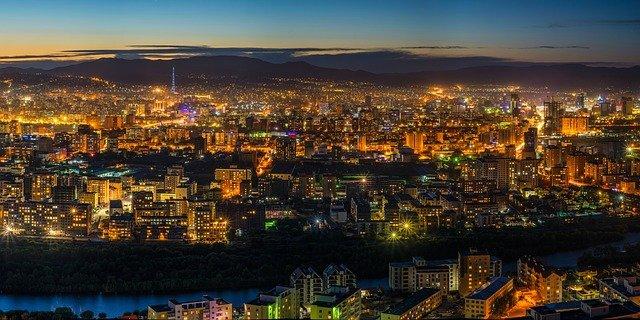 Average yield per year:
In Ulaanbaatar years ago you could get more than 11% per year, currently it is around 7-8%
In other regions of the country you can get up to 18%!
What you can own:
Foreigners can own houses and apartments, but not land
Visa:
You need a visa if you want to go to Mongolia. That is valid for 1 month
You can obtain a residence permit as an employee at a Mongolian company, or by investing. With the latter you have to start a company and invest $100,000 in it
Other Factors:
Real estate prices have been falling for a while due to high unemployment (10%), high mortgage rates (12%+) and an oversupply of overpriced real estate for the local population (in the expensive neighborhoods)
You have a lot of cheap real estate, about € 750 per square meter in the capital, but in the luxury areas this rises to almost € 3000
High taxes for foreigners
Government corruption
Highly dependent on China
Weak economy these days, but expected to improve
Conclusion:
Mongolia is an average option. The real estate is cheap if you stay outside the luxury areas and getting a residence permit is usually quite feasible.
You can't own land and foreigners are highly taxed, so personally I wouldn't consider investing here, but 8% to 18% return is certainly not bad.
Average yield per year:
In the capital Tbilisi on average 12% but it can reach 15%+
What you can own:
All types of real estate, except agricultural land
Visa:
You do not need a visa if you are staying in the country for less than a year
A temporary residence permit is possible through real estate investments (minimum €25,000)
Other Factors:
Strong economic growth
Increasing tourism
Real estate prices are also steadily rising
Low taxes on rental income (5%)
Very beautiful country
Very liberal government (the good form, not the welfare state we have here)
Fairly cheap real estate, a studio of 25 square meters will cost you around €30,000, and you can earn around €3,000 per year
Could potentially get invaded by Russia
Conclusion:
Georgia is a sorry case of almost-but-not-great.
A beautiful country with a strongly emerging market, easy visa regulations, cheap real estate with a very attractive return and a good central location between Europe and Asia.
Wow! Georgia could without a doubt be the best option to invest in real estate in Central Asia and ranks in the top 10 or even top 5 of all the countries I researched for this series… if it weren't for the fact that it borders Russia with a leader who likes to invade other countries.
For that reason alone I would advise against investing in Georgia, which is a damn shame.